Yep, it is that time! The party has ended at the
Cuttlebug Challenge Blog
. My Cupcake themed party is done and it is time to send out the thank you cards! I am so glad that I participated in this month long birthday celebration! It really helped me get my act together for Hannah's birthday. The celebration is scheduled for October 18th. The invites went postal today!
I love stickles. I could really stickle everything on a card but I limited it to the icing on the cupcake and for the sentiment. The sentiment is from That's Jazzy Stamp Dreams. There were 3 Thank You like sentiments in this package and the price is SO REASONABLE! A mere $2.50 for 3 american made acryllic stamps! You should check out Sheila's site
HERE
.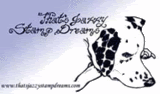 **Sigh** Thank you so much for watching my birthday journey unfold! Happy Scrapping!