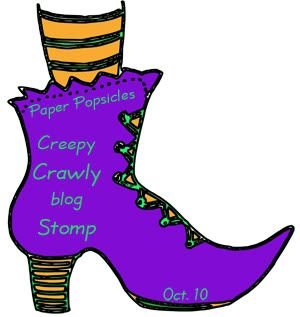 Welcome to
Paper Popsicles'
second blog hop, our
CREEPY, CRAWLY, Blog STOMP!
Today, we hope that as you go around to each of our creative team member blogs, you will find inspiration, some tricks, and perhaps some
TREATS!
If you stumbled upon my blog from the main
Paper Popsicles' blog
GREAT!!! you are on the right track! This is your first stop!
Our porch lights are now on!
As you move from one blog to the next, you will collect a
TREAT (a word).
For your efforts, you will be entered into a RAK to win a fantastic prize—The Loud Talker Kit from October!!!!
Please leave a comment on EVERY blog during our stomp....otherwise you might miss out on some other free treats!!!!
OH, I almost forgot! Paper Popsicles is screaming with great deals today. 25% off everything in the store and 50% off all clearance! October 10th only. www.paperpopsicles.com/store




And now I want to share with you MY ghoulish surprise: Fun Pumpkin Decorations and the tutorial!!!!!
These were very fun and SUPER DUPER EASY! They would be great to do with kids too and hand out for fun little gifts to friends and coworkers!
Materials:
8- 6 x 1 inch strips of paper (try different kinds of paper--there are two more pumpkins towards the end of this post)
2 Brads
embellishments to suit
1. Gather your strips
2. Punch holes in each end of your strips. I used my Crop A Dile so that I could punch all of the holes at once.
3. Put your brads in each hole. I used bigger brads, not the mini ones. It doesn't matter what color because you won't be able to see them anyway!
4. Take your piece and bend it slightly. The peices of paper will separate easier for you if you bend it in your hand.
5. While bending slightly, spread the peices apart and into a circle.
6. VOILA! Decorate and you are done!
I experimented with different papers. The next one was made with
my new love, Core'dinations Cardstock. I embossed, sanded, then decorated.
And this one was made with double sided cardstock by Best Creations.
I guess you want your other treat too? The treat on my blog is
Now that you have been scared into the season, don't forget to leave a comment, then head over to
Lynda's blog
next!
2.
Lynda
<--- GO HERE NEXT